Most of us carry at least one insurance plan. It all begins with health insurance that even newborn babies are required to have these days. Then as you reach sweet 16 and get your driver's license, it's time to get your first car and shop for a cheap auto insurance policy for the first time. A number of years later you decide to settle down, get married and buy your first home, so now you are in need of a homeowner insurance coverage. And once you have kids, you want to make sure their financial well-being is protected even if something happens to you, so you take out life insurance.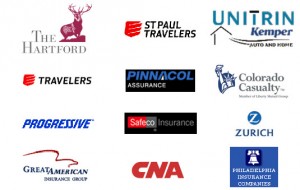 Finding the right provider is a challenge for many – insurance language is often beyond our understanding and terminology requires explanation from someone competent. If you are searching for a reputable insurance carrier, make sure you do your research prior to making your final decision.  Here are some helpful tips when shopping for insurance;
Check with the Department of Insurance of your state to see whether the company you chose is licensed, what is their A.M. Best rating, and how many complaints they received in recent years
Look up the grade that the company gets from BBB, what is their complaint history, the nature of claims made by the former customers and whether the claims were resolved
Do comparison-shopping: services and coverage offered vary from company to company, so do the rates. If you can find adequate coverage at a cheaper rate from a small insurance carrier, why spend more with a company that is better-known, hence more expensive?
Understand the insurance plan you are buying: what is the coverage? Are there any conditions and exclusions? Make sure to check if discounts are offered if you purchase a family plan, or if you are a student or senior citizen.
Beware of fraudulent insurance companies. Check their website and make sure their physical address and valid phone number are provided. If all you can find is a P.O. Box and an "800" number, it's likely that the company is a scam and you should stay away.
Read the online reviews. You can find so much useful information on the web today, many sites will provide tips on how to find a reputable life insurance company, or what health coverage provider offers better rates and superior customer service.
Talk to your friends and co-workers. Getting the feedback from the people you know well and trust is the best way to get accurate information and it will definitely help you make the right choice.