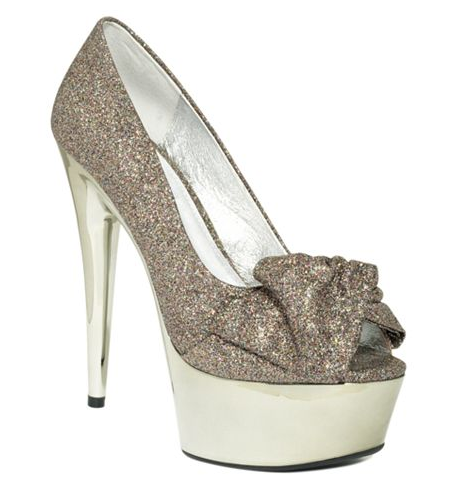 Perfect for a night on the town or your next holiday party, the ultra high heel Moskoww pumps from the Steve Madden collection are the epitome of fabulous while being just over the top enough to make you feel younger, sexier and more confident. This shoe was definitely not made for walking but they will get you around your next event with an air of confidence and a feeling of superiority.
Peep toe heels covered in silver glitter with flecks of reds, gold and other rich colors, these 5 ¾ inch heels have a festive bow on the toe strap and a mirrored heel with a 2 inch mirrored platform to boot. These Steve Madden heels are so fabulous they will work with just about any party ensemble. Pair them with a little black dress and a silver clutch for an evening event or with a vibrant red dress made for celebrating the holidays.
While most women prefer to wear flats on a regular uneventful day, throwing on some Steve Madden heels for a special night compliments any kind of dress. These heels are made for fabulous legs to do yourself a favor and pair them with a short hemline to make the most of what you've got. If a dress isn't in the cards with these gorgeous heels, pair them with your darkest skinny jeans, a black tank and a black blazer. Pile on the jewelry with necklaces and bracelets and let these heels add glitter and excitement to your outfit.
The soles are man-made and the women's shoes are imported. The glittery upper portion of the Steve Madden Moskoww heels is made of leather and the heels are comfortable and easy to wear. Not for the office, or even for your first meeting with the people you hope will one day become your in-laws, these heels were made for fun and playtime. Be the envy of every woman in the room in these Steve Madden shoes at your next event.